WhiteHousePro3 theme by PageLines, is a CMS WordPress theme designed for people who want a sophisticated site that makes a solid impression.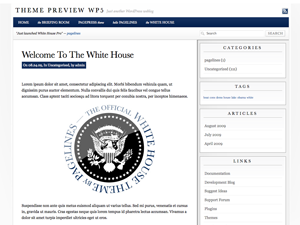 Support for native WordPress 2.9's 'post thumbnails' added. Professional theme with 2 column layout and right sidebar, widget-ready, built-in support for twitter feed, support for threaded/nested comments, easy to customize through the settings-page.
Design Options
Cufon Font Replacement
More text color options
Global AND individual page color options
Sidebar and Widget Options
Left sidebar option
3 additional widgetized areas lets you put widgets practically anywhere you want.
More sidebars giving you different sidebar options for certain pages.
New 5-column footer
More Page Template Options
New carousel templates with FlickRSS, NextGen Gallery, or post thumbnail links
Full width carousel template
More options for handling excerpts, thumbnails, author bios, the welcome message, and sub-navigation
Feature Slider and Fboxes
Shortcode ready feature slider and fboxes
Ability to easily add more feature boxes and slides with one click
Feature slider navigation options (display number, name, or thumb)
PHP5 is required for options.
Theme homepage: http://www.pagelines.com/themes/whitehousepro/